Professional and Supportive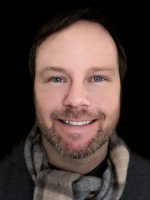 B.S. Biological-Psychology, Published Scientist, Certified Healing Touch Practitioner (CHTP), Biofield Therapy Specialist.
New evidence suggests that human physiology extends beyond the physical body into an energy field that surrounds and penetrates the body. Biofield therapy can safely restructure this energy field to help promote optimal physiological flow.
"Biofield Therapy can clear the clouds around you so the sun can shine within you." ~David
Everyone's biofield is different; a complex system of bio-electro-magnetic energy that stores information about personal and relational interactions. When the systems get stressed they get cloudy. David has the experience to identify areas of imbalance and help correct them. The immediate effect can be one of extreme relaxation, ease of breath, and relief.
Flexible Scheduling
Treatments can be done in a park, office, home, or hospital.
The reclining treatments are 60 minutes and balance the whole biofield. Starting at $85.00
The seated treatments are 30 minutes and relieve/restore the head, neck, and upper body. Starting at $40.00
Treatment Includes: Biofield assessment, Biofield clearing, Biofield restructuring, Biofield balancing